The best guide to online roulette
Roulette is a fun and social way to gamble. But before you get started, it`s a good idea to learn how everything works. So we have put together a proper guide to roulette.
Here you will learn:
Once you have gotten a proper overview, learned the lingo, the bets and how to play, you are ready to hit the tables. So we have gathered a list of the best roulette sites for you to get started. If you feel like you are not quite ready yet, you can start off by playing free roulette games.
Regardless of your affection for gambling games, chances are you have heard of roulette. The game, invented centuries ago, is one of the most popular and widely spread games of chance. The immense allure of roulette has to do with both its history and its gameplay, both of which make it fun and desirable to play.
The game of roulette first appeared in Europe back in the 18th century, in France.
Since then, the game has changed and evolved in many ways, and players in all corners of the Earth have learned to accept it.
Not only has roulette been recognised by many people, but it has also been modified with versions such as American Roulette played specifically in certain parts of the world.
The advent of online casinos saw the game live through a true renaissance, with new versions invented and roulette becoming more available than ever before. With the game available in their homes, players could finally take their time and enjoy it any way they saw fit, with various bet sizes and strategies applied.
If you are new to roulette, we bring you some basic knowledge you will want to have before you jump into roulette play. If, on the other hand, you have been around roulette before, there may still be some tips on this page that you can use to improve your game and understanding of roulette even more. Keep reading and become a true master of the devil's wheel in just minutes.
The best casinos for playing Roulette
The Basic Rules of Roulette
The word roulette refers to a fairly significant number of games as there are many different versions of it available. However, every version includes some basic rules that are the same, with others changing between versions.
Roulette is a game of chance in which the players bet on the outcome of a spin of a ball inside a roulette wheel. The wheel is split into several slots, each represented by a single number. The ball is spun through the wheel and ends up falling into one of these slots after some spinning. To win, players must have selected the right number or one of the other wagers associated with this number, often called outside bets.
In every roulette version, the players' bets are placed on a roulette table, that is separate from the roulette wheel. Players are given some time to place their wagers before the ball is spun, with dealer announcing: "no more bets" at one point, to signify that all betting is done.
All that is left after this is for players to wait and find out which slot the ball will land in. This is, in fact, the most exciting moment of the game, as the result of all the bets in play is being decided. Roulette is a game in which fortunes can turn quickly, and players can quickly build up a big bankroll with a number of consecutive lucky spins.
Making Bets in Roulette: Inside and Outside Bets
Roulette is a relatively simple game to get the hang of, but there are some things to learn about betting that is crucial before you begin playing. The first thing to know is that there are many different ways to bet on every spin. A player may choose to bet on a single number or many different numbers, by placing chips on various parts of the betting table.
The first group of roulette bets are called inside bets. Inside bets are made on the inner part of the betting table, by placing chips on the numbers themselves or the lines connecting these numbers. These bets are highly volatile and somewhat hard to get right, but they also pay big when you do hit them. Examples of inside bets are:
Straight bet: 35:1 payout with a 2.7% chance to hit
Split bet: 17:1 payout with a 5.4% chance to hit
Three number bet: 11:1 payout with an 8.1% chance to hit
Column bet: 2:1 payout with a 32.4% chance to hit
As you can see, most inside bets are designed to offer high payouts at a low hit rate. This way, players who are trying to gamble it up and give themselves a chance at big money with small bets can achieve their goals. However, this is not the only way to bet on roulette and players who don't like this amount of risk can also enjoy the game in their way.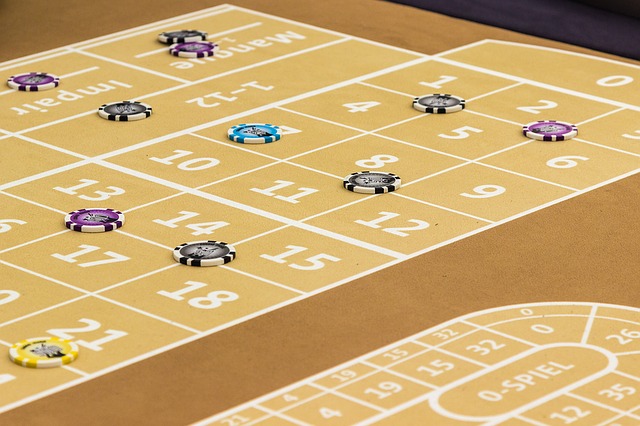 The second group of bets, called outside bets, is where the more risk-averse players get to exercise their strategies. The outside bets are more likely to land and they offer smaller payouts. Some of the most popular outside betting options include betting on whether the ball will land in a red or black slot or whether the slot will have an even or odd number on it.
Many players also use a mix of inside and outside bets to make a strategy that makes them feel most comfortable while playing. Remember that the house always retains the same edge, no matter which bet you make, but the volatility levels will drastically change as you change your betting strategy. Some of the standard outside bets you should know about include:
Red/ Black: Even money payout with a 48.6% chance to hit
Odd/Even: Even money payout with a 48.6% chance to hit
First 18/Last 18: Even money payout with a 48.6% chance to hit
Notice that all of the mentioned outside bets offer the same chance to win and the same payout. This is because each of these bets includes the same number of slots on the roulette wheel, just under half. While such a bet may be exactly break-even, it is not, because the zero number is neither odd, even, red, black or in either of the halves. This remaining number is where the house creates its slight edge in the game.
House Edge and Beating Roulette
Roulette is a game of chance in which the player competes against the house. Like any other such gambling game, roulette gives the house a slight edge. If you are playing the correct version of roulette, that edge will be 2.7%, which is the equivalent of a single number of the roulette wheel.
Remember that the house edge in roulette does not change at all, regardless of which bet you make. All payouts are adjusted to give the house this same edge, with the volatility level being the only thing that changes.
With this in mind, we can see that there is no way around the system and the house is always a slight winner in the long run. However, this does not mean that roulette cannot be beaten on any given day, with many different strategies allowing for potentially big wins to be produced.
Players vary their strategies to adjust to their bankroll size and try to outsmart the house on a given session. This can be done in a variety of ways, some of which are patient and slow and others aggressive and quick.
The fast and aggressive way of playing roulette is one taken by the gamblers who enjoy the rush of victory and the quick pace that roulette can offer. Betting on only one or several numbers and repeating the bet with potentially increasing stakes can lead to massive wins when the numbers land, but also fairly significant losses in sessions where things don't quite go your way.
The other approach is more systematical and slow and will not lead to a big win on any given spin. By making outside bets and sometimes using various progressive betting systems, players can slowly grind out a solid win without ever risking too much on any given spin.
Both approaches can be used to try and land a win in a roulette session, but remember that in the long run, neither of these or any other strategy will give you an advantage over the house. Unless one is playing on a crooked or faulty roulette wheel, the fair house edge will always be there on every spin one bets on.
Roulette Versions: European, American, French & Others
We already mentioned that the game of roulette, was invented in France in the 1700s, but over the years it has undergone many changes and upgrades. Today, there are several different versions of roulette that are popular among players, with several others also appearing in a limited capacity, especially in online casinos.
The most popular version of the game is undoubtedly the European Roulette, which is spread in live casinos across Europe and the rest of the world and in most online casinos. European Roulette is played with a wheel that has a single zero slot, 37 numbers in total and a 2.7% house edge on all bets.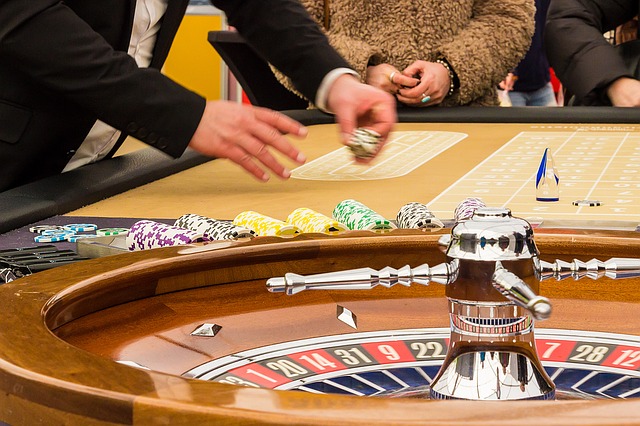 A version of European Roulette that is popular in France and is also available in most online casinos is the French Roulette. In most ways, French Roulette is the same as the European version, with several important rules added to the game. The la partage and en prison rules offer players a chance to get some money back on their outside bets when the ball lands in the zero slot, improving the odds of outside bets and decreasing the house edge to just 1.35% for such bets.
American Roulette is the version that was popularized by the Atlantic City and Las Vegas casinos and is one that makes the odds worse for the players without any real benefit. The game adds another slot to the wheel, the double zero, and offers the same payouts as all other versions. With a 5.4% house edge, American Roulette is a variety you should avoid playing unless you find yourself in a brick and mortar casino in the USA, where it may be the only version being spread.
More recently, with the development of online casinos, various new versions of roulette have also seen the light of way. Multiball roulette that uses multiple balls in a single wheel and multi-wheel roulette in which all bets are placed on the spin of several different wheels are available in many online casino. These give players a chance to spread their bets and mitigate losses and generally add a lot of suspense to the game.
Aside from these, the developers of online casino games have also come up with plenty of innovative ways to change roulette to make it more fun. Various versions of roulette give players a chance to bet on things like seasons and months of the year or horoscope signs instead of particular numbers. However, keep in mind that each of these online roulette versions may very well give the house a more significant edge than the more classic variations of the popular wheel.
Roulette Wheels in Brick and Mortar Casinos
If you find yourself in a brick and mortar casino, like Bellagio and see roulette, you may want to play it. Before you head over and enter the action, make sure you check out which version of the game is being played first. If both European and American Roulette is available, make sure to always play at the European table as it gives you better odds on every spin you bet on.
Once you choose your table, you will want to get some chips. At the roulette table, you will likely receive special colour chips, which have a certain value and are a different colour from the chips of all the other players. These are used to establish which bets were made by which player, with regular casino chips, often not accepted on the roulette table at all.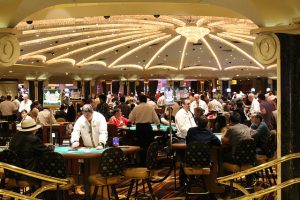 Once you have your chips, you can start placing them on the betting table. Make sure you get all your bets in before the dealer announces that there are no more bets as any bet made after that will not be counted, and you may even be removed from the roulette table for trying to make such bets.
Playing Roulette Online
Online casinos have truly revolutionised the ways in which players can gamble by bringing the casino into players' homes. While there are some concerns about the impact of such accessibility of games such as roulette, the fact is that recreational players have a chance to enjoy in a manner much simpler than ever before.
Playing roulette online is extremely simple. All you need to do to get into the action is to pick one of the hundreds of online casinos that offer roulette games and sign up for an account. Creating an account with an online casino is quick, easy and most importantly, completely free.
Not only can you sign up with an online casino without paying a dime, but you can also play actual casino games without any investment. The free demo versions of various roulette games are available in online casino lobbies. They are a great way to practice various strategies and get acquainted with different types of the game.
Once you have spent enough time familiarising yourself with online roulette by playing the free demos, you can switch over to real money play very quickly. Many online casinos will offer you no deposit bonuses which you can use to play actual real money games without any deposit. However, to get in on the best action, you will need to deposit some real cash, and the best casinos will give you bonus money when you do so, making your bankroll bigger than ever.
Online Roulette Bonuses
One of the most significant advantages of playing roulette online instead of live is the fact that online casinos provide bonuses for all depositing players and sometimes even for those who don't deposit at all. With bonus money, you will have more cash available to make your wagers, and you will be in with a better chance of actually cashing out some profit.
If you think about the fact that roulette is a game in which the house has only a 2.7% edge, having your deposit doubled or even tripled by a bonus may give you the edge you need to beat this edge and go for the win.
Keep in mind that every online casino bonus comes with specific wagering requirements, which means you will have to bet the money you have deposited and the bonus money a certain number of times before you get to request a cashout. That said, even with the wagering requirements in place, you will still be in a great spot to beat the house when you claim a casino bonus.
If you are unfamiliar with how bonuses work, let us introduce you to a few main types of casino bonuses you may receive from the online operators:
No deposit bonus: A small bonus issued to every player who signs up with the site. No deposit bonuses are offered by some online casinos and come with certain limitations.
Deposit bonus: A popular type of casino bonus issued by nearly every online casino. A deposit bonus matches the player's deposit size and adds more cash to the player's balance with which they can play games of their choice.
Reload bonus: A reload bonus is often issued to players who have already claimed their first deposit bonus in the past. A reload bonus gives the player a chance to win back some losses in case he lost or go for another big win.
VIP/Loyalty bonus: Loyalty bonuses are issued to the most loyal and frequent of players. If you play a lot with a single casino online, you may receive a special VIP bonus that comes with better terms and a heftier sum.
Cashback bonus: Cashback is a way for an operator to give something back to the players. Players who have an active cashback bonus will receive a portion of their potential losses back into their accounts in case they lose on a day or a week.
As you can see, online casinos offer many different ways for players to get something back for playing with a particular site. This is not too different to the comps system that many live casinos have in place, but the difference is that instead of getting hotel rooms and dinners, you are getting actual cash that you can wager and potentially win money with.
Before you take on any bonus, make sure you check out the terms and conditions of the offer in question. You will need to understand precisely what is being offered, which games you are allowed to play and how the wagering conditions work for that particular bonus if you are to get the best possible value out of it.
Play Live Roulette Online
Roulette is an enjoyable game, in part because of the social element of it. Playing face to face with a dealer and beating the house is a different sensation than beating a slot machine, which is a big part of why many high rollers prefer roulette to slots in a live casino environment.
When playing online, players are detached from the actual casino personnel, which can make table games a bit less fun. Online casinos came up with a great way to counter this by introducing live roulette. This is a version of roulette which you can play online, but against an actual house dealer and with a clear look at the real table you are playing at.
By combining the state of the art technologies for filming and streaming the game and the old fashioned casino floor with all its details, online casinos can now offer the best of both worlds. By playing at a live roulette table, you will get to watch the game being run out of a real-world casino establishment while betting from your computer or mobile device.
The live roulette has advanced tremendously since first being introduced in the early 2010s and now gives players a chance to get the real casino feeling with very little missing. Live roulette wheels are offered in online casino lobbies in many different formats, with minimum bets starting at just cents and maximum bets ranging into the thousands of dollars per bet.
Real Roulette Feel on Mobile Devices
Mobile phones and tablets have changed the way we observe the world around us, and online gambling has been revolutionised by these devices as well. Today, you can join almost any major online casino and play roulette games in demo mode or for real cash on your mobile device.
The two primary ways of playing mobile roulette include instant play roulette games and downloadable casino apps. With instant play, players can access the casino via a mobile internet browser and jump straight into the action. Downloadable apps, on the other hand, require players to download an app to their phone before playing.
In both scenarios, players get access to a high-quality product, thanks in a big part to modern technologies like Java and HTML5, which allow games to run smoothly and fast across a wide range of devices. More and more, online casinos are moving away from the downloadable apps and giving players instant access to all their games, including roulette.
If you enjoy playing games on the go and roulette is one of your favourites, you can join many different online casinos and get playing on your phone or tablet within minutes. The best sites allow you to deposit money and make cashouts from your mobile device as well, which means all you will need is your device and an active internet connection to start spinning the ball.
Start Playing Roulette and Become a Master
Roulette is one of the simplest gambling games to get started with, as it requires minimal strategy and tactic. While there are many ways you can play, neither of them will give the house an extra edge on you, which means you can make any bets you choose and you will still have the same chance to win as any other player.
Thanks to this, even a novice player can start playing roulette. However, using the strategies and tips we offer here, you can get better short term results and have more fun betting in a structured and smart way that tends to bring good results on any given session.
Check out all the tips and trick offered at our sites and join one of the best online casinos for roulette players presented here. Check out the various bonuses and promotional offers which you can claim and kick start your online roulette career with extra cash in your pockets. If you take all our advice, we can promise you will have a load of fun playing the best online roulette games, and you will have a fair chance to win every time.
Before you start playing, remember to gamble responsibly and play only within your means. Roulette is tremendous fun, but it is also a game that can get expensive quickly, so remember only to wager money you can afford to lose and keep entertainment as your main reason to play every time.